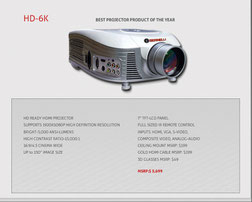 Hi All,
It's not uncommon for me to patrol kijiji looking for deals on some used Audio/Video gear and I keep stumbling upon some scams that I figured it's worth letting people know about.
Unfortunately we know of some people that have purchased projectors either via Kijiji or from the back of a white van (really... I thought that was just a saying).  These projectors are an absolute rip-off!  The pitch might be that they are worth thousands of dollars and they are being sold off or cleared out at only $800 or $1500 or whatever.  There are even fake websites that are created just to make them look legit (and have a bogus msrp!)  
The reality is that these projectors are virtually worthless... and so are the screens that they come with (usually a 73" pull-down 4:3 screen).  There is usually a long list of "features" that the projectors have, but I don't think even one of them is accurate.  I'm also pretty sure that these things aren't even close to being CSA or ULC approved... so it's possible that they could be a fire hazard.
Long story longer... DO NOT BUY A PROJECTOR FROM THE FOLLOWING BRANDS...
-Quantum
-Visionmax
-Bernelli
-Platinum
-Volare
-Palladium
Or... probably a good idea to not buy anything from the back of a white van.  There are quite a few scams out there for home theatre systems, speakers, etc.
There are some excellent deals to be had on kijiji with both new and used gear (and services!) but watch out for those deals that seem too good to be true (and from a brand you've never heard of!)