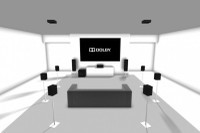 Dolby Atmos has been in Movie Theatres for a while now and is really a fantastic technology.  Home theatre products utilizing Dolby Atmos are just coming out this year.
What is it?  Audioholics has a nice little article here.
Is it a must-have, or is it just another gimmicky thing that manufacturers are using to try to get us to buy new gear?  I'll have to find out myself soon.
Here's a quick summary of what it means for home theatre...
-Location of sounds are given parameters that tell the audio system where to place the sounds.  This is in contrast to the audio just being sent direct to the speakers, which may or may not be in the proper position.  With Atmos, an X, Y and Z coordinate is given so the sound can be placed in the most suitable spot, even with verticality allowing sounds to pan above the listening position!
-More speakers.  Ultimately, Atmos can support up to 64 seperate channels of audio.  Does this mean we will have 64 speakers in our living rooms?  Probably not... but there can be as many or as little as you like and the audio system will make use of what you got in the most appropriate way.
-Ceiling/Height speakers!  The first implementation for home theatre will be to add some verticality to our surround sound.  Instead of 5.1, we'll now have 5.1.2 or 5.1.4, which means 2 or 4 in/on ceiling speakers respectively in addition to the original 5.1.  Planes flying overhead?  Rain?  No problem.  So, now we'll see 7.1.4 and even 9.1.4 surround sound.  It was hard enough to explain what the .1 was for...
-Confusion!  I can't wait to see how this is marketed by manufacturers.  I'm hoping it contributes to actual better sound versus just an excuse to sell more speakers and new receivers/processors.  We're usually the first to suggest that our clients keep it simple and stick with a 5.1 or 7.1 system (there really is no such thing as 9.1 or .2... they are just simulated effects and can often harm the overall sound quality).  Time will tell, I suppose and we'll offer our opinions once we implement some systems (perhaps in our own homes!)